Billie Buttons is an exciting and ever so easy kids' styling service that delivers handpicked, high-quality clothing items and outfits straight to your door. But how can it be so simple, you wonder…
Well, it's as easy as 1, 2, 3!
Step 1: Getting to know you. Take our fun questionnaire to tell us your preferences, including your child's size, personality and when you'd like to receive your box(es). Then, we'll personally pick out the best clothing bundle to suit - all for a small, reimbursed styling fee.
Step 2: DO try this at home! Try on the pieces we send out before returning the ones you don't like within 7 days.
Step 3: Penny for your thoughts? Pay for the pieces you both loved and, of course, kept. And that's it! Genius, right?
The cost of a Billie Buttons box varies and simply boils down to what your preferences are, including the number and type of products you request. For example, a warm winter coat will be pricier than a lightweight summer T-shirt.
Luckily there are four box sizes to choose from, ranging from five to twenty pieces or more. No matter which box you opt for, we always ensure that you receive the highest quality kids' clothing without the high price tags. We carefully choose conscious brands housed within the affordable mid-luxury market range that we know you'll love. How? Because we love them too, of course!
And remember, you won't pay anything up front and only get charged for the items you decide to keep.
Example of prices of each garment in a box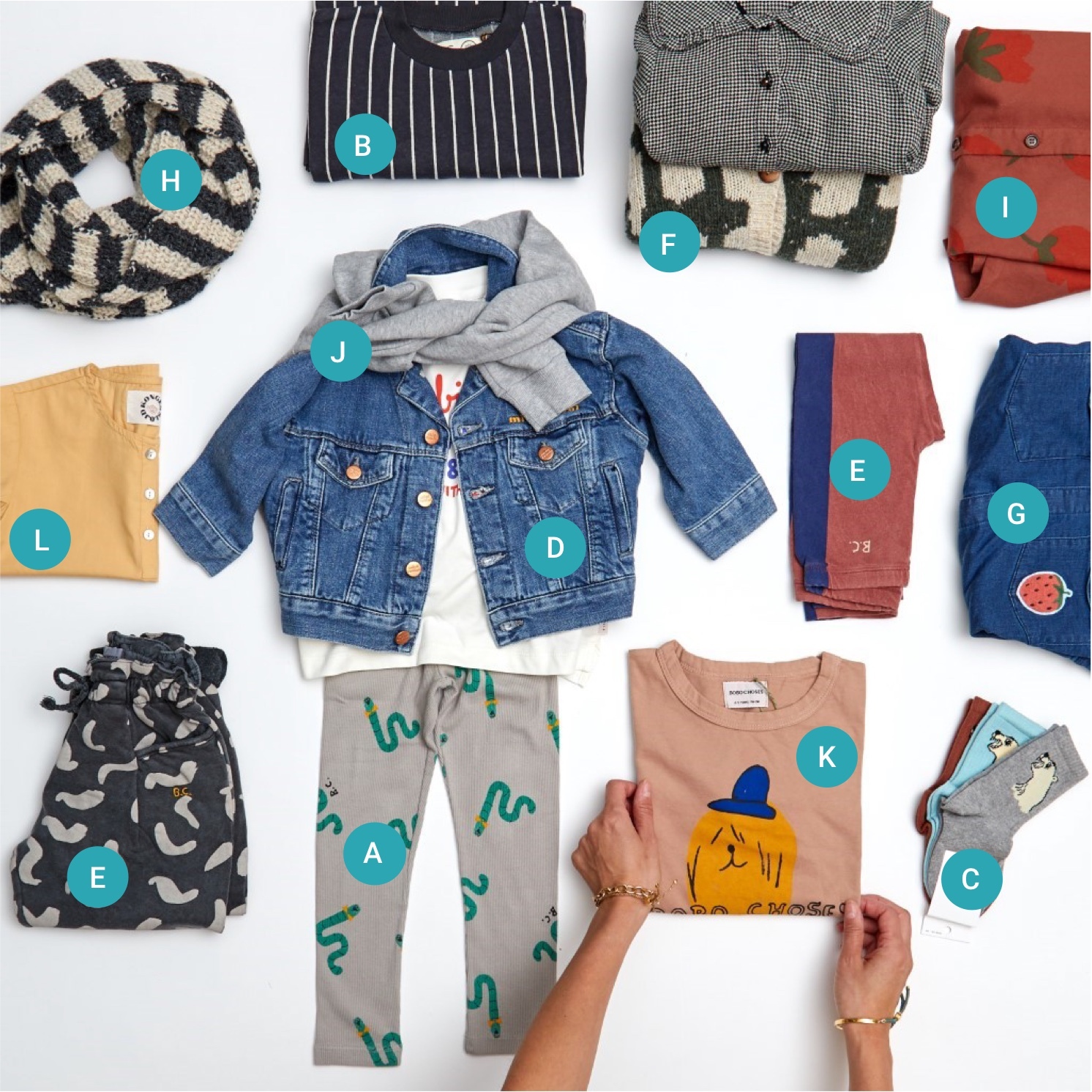 A. Leggings: £29. B. Long Sleeve T-shirt: £32. C. Socks: £14. D. Denim Jacket: £49. E. Trousers: £45. F. Knitted Cardigan: £59. G. Dress: £59. H. Woollen Scarf: £39. I. Dress £69. J. Sweater £52. K. Long Sleeve T-shirt: £27. L. Blouse: £27.
We always aim to ship your Billie Buttons box within 24-48 hours, latest 72 hours. If we have ordered in specific items to meet your preferences, you will be notified of a slightly longer delivery date.
Our preferred carrier is DPD and you will be notified by DPD once your box is on its way.
If you have a specific delivery date in mind or would like us to hold the shipment a bit longer, please let us know in the quiz and we'll try our very best to accommodate your request.
The rules are simple: keep the goodies, send back the baddies.
Take

7 days

to choose which pieces you like and which pieces you don't
Head over to your online account
Select order, and tick off the items you wish to return
Pack up your parcel, nice and tight
Seal your box and say goodbye 👋
Please return all your items unworn and with tags still attached. Shoes must be returned in the original packaging with their box. For hygiene purposes, any underwear or swimwear must be tried on over your child's own nappy or underwear.
Luckily for us (but perhaps not for you), our boxes sell like hot cakes - and are just as warming and delicious, too! Sadly, this means that there are often not that many items left over for a sale.
When you sign up to our newsletter, you'll be the first to know of any promotions and sales should there be one. But please note, we give priority to the customers that ordered a full-priced box during the season. So, don't delay - button-up with Billie today!
Billie Buttons' boxes work any which way you want them to. You can sign up for a subscription if you like, but if you'd rather not, then that's okay too!
If you do decide to subscribe, there are a couple of options to choose from:
Bi-Annual Boxes - One box at the start of each season, for spring/summer and autumn/winter.
Quarter Boxes - One box will be delivered every three months.
Monthly Boxes - One box every month, for only the most serious of style icons.
We keep your credit card details on file and will take payment for the items you decided to keep as soon as we receive your returned box. If you have insufficient funds available, we will notify you accordingly so that you can arrange alternative payment methods.
If your invoice remains unpaid for another 30 days, we will start the formal procedure of debt collection through our legal team. As a company that operates on the principles of honesty, integrity and transparency (they're Billie's middle names!), we expect the same from our customers.
Of course, we would hate it to come to this. So, if for any reason there are complications with your payment, your invoice or anything else, please don't hesitate to get in touch.
All our clothes are conscious, high quality and fun, fun, fun! But don't let us spoil all the surprises - take a look for yourselves.
We work with:
Mini Rodini
Bobo Choses
Tiny Cottons
Maed for mini
AO76
Zhoe & Tobiah
My Little Cozmo
MarMar Copenhagen
Konges Sløjd
Rylee + Cru
Simple Kids
Weekend house kids
Sproet & Sprout
…and we are always hard at work sourcing new and brilliant brands to add to our already brilliant line-up!
A brand-new service to Billie Buttons, our Virtual Boxes are the perfect solution for any picky parent. Whether you don't like surprises or you're just too impatient to await its arrival, we let you know the contents of your handpicked Virtual Box before it gets sent out, so you can add or swap items that don't tickle your ickle one.
Simply fill out the questionnaire as usual, and you'll receive an email within 24 hours showcasing your personalised selection. Then, just let us know if there's anything you would like to change (or not!) before checking out as normal.
Unlike our regular boxes, there is no styling fee for a Virtual Box - but you will be charged upfront. You can still return items free of charge though, and any refunds will be reimbursed via the original payment method.
For a Billie Buttons Surprise Box, we charge a small styling fee (or deposit) of £10 for every order. This is fully refundable if you decide to keep anything from the order. For a Billie Buttons Virtual Box, there is no styling fee.
How do I get refunded for the styling fee?
The £10 is charged to your registered payment method once your order has been placed. This charge will then be deducted from the total amount once you have decided what to keep.
In the extremely rare case where you decide not to keep anything from your Surprise Box (and trust us, it's rare), the £10 won't be refunded.
Why do you charge a styling fee?
Billie Buttons consists of a closely-knit team of passionate people who work their little buttons off to bring you the biggest and brightest bundles of joy. As a small business, we want to build a level of trust between our brand and our community, i.e. you lovely lot.
We like to think of the styling fee as a deposit - if you commit to shopping with our brand, we commit to handpicking only the very best box for both you and your little one. Without this small fee, we wouldn't be able to deliver such a high quality of personal styling. So really, we owe it all to you - and from the buttons of our hearts, we thank you!
To accommodate a range of budgets, there are four different sizes of boxes to choose from:
Beginner Box: Five pieces of clothing
Best-Selling Box: Ten pieces of clothing
Inbetweener Box: Fifteen pieces of clothing (a Buttons best-seller!)
Bells and Whistles Box: As many as you can fit!
No matter which option you choose, the refundable styling fee stays the same. So, in the case of Billie Buttons, more is always (technically) less!
Absolutely! If that top is too big or those trousers are too small, we can swap the size for one that's just right. Simply send an email with all the information to hello@billiebuttons.com and we will post it to you as soon as it's in stock.